The Portfolio of employability skills it is a tool developed within the OVPELO project that aims to support EVS volunteers in identifying and evaluating their competences. It was created to support young people while entering the labor market. While working on the project we have observed two challenges:

Young people do not realise what they know and can do;
Learning and competences obtained by young people within the mobility projects (especially EVS) are not presented to the employers and due to this they do not serve as an added value within the job application process.

In order to tackle these two challenges, we have developed the Portfolio, which you can download and use. We have identified 9 main employability competences that can be developed during EVS. The competences have been identified based on research in 7 different countries looking in depth what the employers are looking for while hiring young people.
---
| | |
| --- | --- |
| The rationale | Each of the main portfolio competences is broken down into sub competences that support the users in understanding better what the competence is about and in being able to identify strengths and weaknesses. To understand the concept better – if you ask yourself do you know how to dance, it can be very difficult to say clearly yes or no, but if you will break down the dancing competence into ¨I know salsa moves¨, ¨I know flamenco moves¨, ¨I feel the rhythm¨, then it is much easier to self evaluate and as well as to understand what the dancing competence is. So we did exactly the same. By breaking up the big and usually difficult to understand competences like "Learning to Learn" into small pieces, first we facilitate the understanding what the competence really means, and secondly, we can ensure that young people will be more motivated to work on further development of the competence. |
| | |
| --- | --- |
| As reference letter | Finally, the result of portfolio can serve the organizations that have been working with the young person to issue them the reference letter that is fully adapted to what the employers are looking for. |
Powered by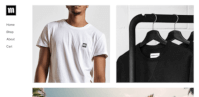 Create your own unique website with customizable templates.